SAFETY CLOTHING
Safety clothing is part of PPE (personal protective equipment) that workers, cyclists, motorists and pedestrians can wear to enhance their visibility in low light and dark conditions. More often, this is to alert drivers and other vehicle operators about their presence. This is especially important for workers who perform tasks on or near moving vehicles or equipment.
Safety clothing consists of background material, retro reflective material, and combined-performance material. Background materials are fluorescent materials that intend to be highly conspicuous and provide daytime visibility. Retro reflective materials are materials that reflect and return a relatively high proportion of light in a direction close to the direction where it came, so as to provide nighttime visibility. Combined-performance material is "retro reflective material that is also a fluorescent material.

Nowadays it has become more and more widely used over the past few years, as well as mandatory for the construction, public safety, mining, and oil and gas sectors.Requirement for high-visibility safety clothing in European countries is EN ISO 20471. In United States, see the ANSI/ISEA 107-2004 American National Standard for High-visibility Safety Apparel and Headwear. And the standards for Canadian workers are found in the CSA Standard Z96-09, and AS/NZS 1906.4-2010 for Australian workers.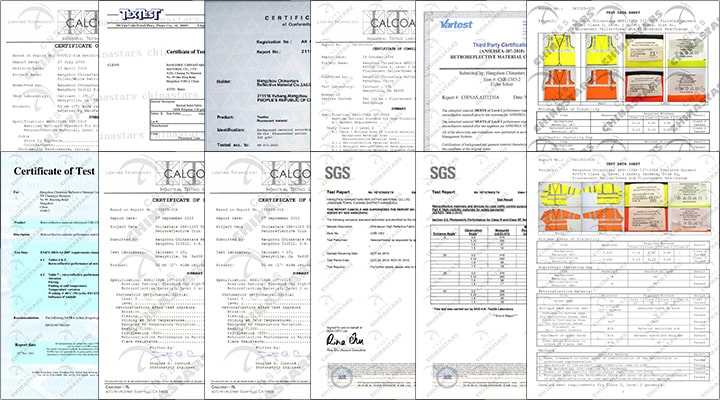 We provide a vast selection of certified products. Choose from our reflective safety vests, hi vis jackets, safety pants, T-shirts, sweatshirts, raincoats and much more. For customization, just tell us your needs, and our experienced design team knows how to work it out perfectly.