Green. Recycled. Safe.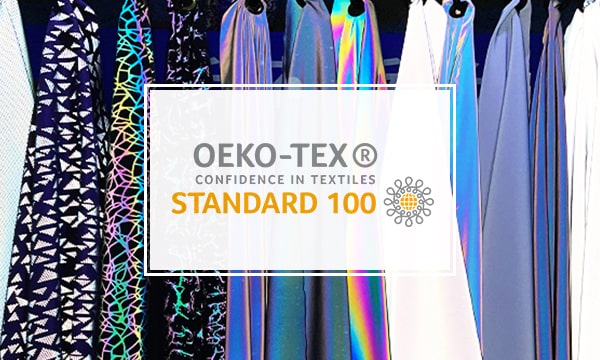 Oeko-Tex 100 Certified Fabrics
GRS Certified Factory
What is reflective fabric used for?
Reflective fabric is initially designed mainly for workwear, especially for road construction workers working on highways, it's important for them to be seen by drivers at night as thousands of cars passing them by as they are working. Firefighters also need to have FR reflective tape on the uniform to make them easier spotted in the dark with heavy smoke.

Several years ago, reflective fabric began to be widely used on school uniform, backpacks, dog collars, hats for safety purpose. As reflective fabric can enable your kids, pets or other wearers be easily noticed on the street in the dark or rainy days.
Now in recent two years, reflective fabric has been a new fashion trend, widely used in casual wear, fashion wear, backpacks, pet jacket and much more, not as accessory material, but as main fabric.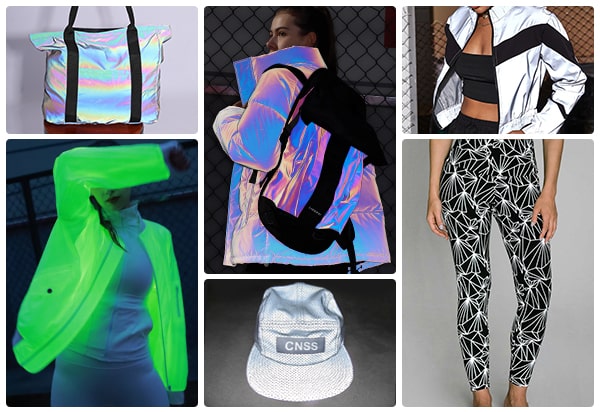 Top 5 Most Fashionable Reflective Fabric in 2023
Explore More Info of Chinastars Reflective Fabric
Feel free to send us your interested reflective fabrics by submitting below form, or by email, whatsapp, skype, wechat, we'll reply immediately within our working hours (CST 9:00AM-18:00 ). You can also call us directly to communicate in time. We can provide free samples for you to make sample clothes or check our quality before you place the order. Our experienced sales team can guide you through the whole process as we have been exporting worldwide for more than 19 years.
Outdoor Reflective Fabric Catalogue
Why should we wear reflective clothing?
Now as more and more people are taking exercises after dinner, whether you are heading out for a stroll, a night running or bike riding, safety is still your No.1 priority. Many accidents are caused by insufficient visibility of cyclist, pedestrians or joggers moving along the road. It's important that you always keep yourself visible to drivers, giving them the best chance of recognizing you instantly.
Actually many researches have shown that the cyclists or pedestrians do know the benefits of wearing reflective clothing, but they choose not to. As the traditional reflective vests or jackets don't fit well their needs of being fashionable on the road. But now you have additional options. As more reflective fabrics are targeting the fashion market, we are always evolving. Now reflective clothing can look good & fashion and keep you visible & safe in the meanwhile.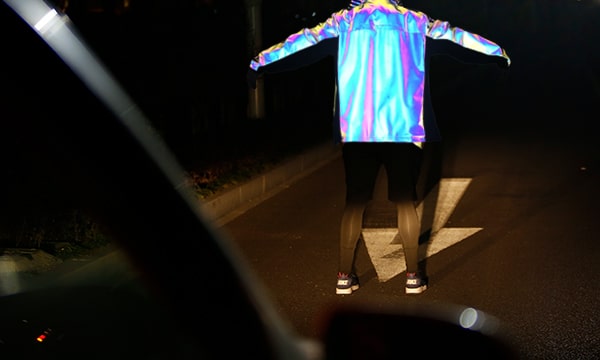 Why choose Chinastars reflective fabric?
Decades of Experience

Our technical team has been engaged in the industry for decades of years. We are the supplier of many well-known enterprises. We're able to create world-class solutions that incorporate more than just the latest technology.

Continuous R&D Efforts

As the leading manufacturer focused on reflective fabric, Chinastars is dedicated to develop trendy fabric using up-to-date technology, to offer designers new options to integrate safety and fashion. Up to now, we have achieved more than 170 patents.

Eco-friendly Products

Chinastars respond quickly to market demands. Our reflective fabrics are eco-friendly, certified to meet Oeko-tex 100 and REACH. We have been exporting worldwide for more than 18 years.

Quality Control

We examine every meter of reflective fabric to ensure the best surface condition. We do 25 times of washing tests on each sample to ensure every batch has qualified washing performance. We spot check the reflectivity of 9 different positions in every batch. We follow strict quality control to have you rest assured with our quality.
How to observe the reflective effect?
Once you get our reflective products, how to check the reflective effect indoors with your phone? Follow the below steps:
Method 1
1. Open the camera app on your phone and choose video mode.
2. Turn on the flashlight under video mode.
3. Keep a distance (arm length) with the sample.
4. Put the phone close to your eyes and observe.
Method 2
1. Open the camera app on your phone.
2. Turn on the flashlight under photo mode.
3. Keep a distance (arm length) with the sample and take a photo.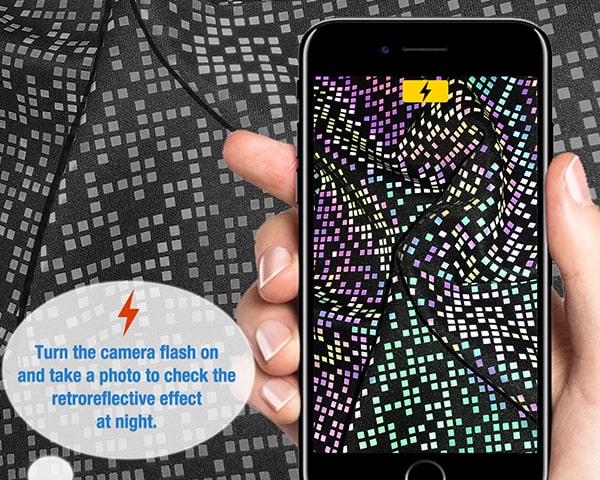 How to restore Reflective Fabric before or during garment manufacturing?
1. Store in a cool, dry and ventilated place, and avoid prolonged exposure to the sun. Recommended to Keep them in the environment of below 80 °F and lowering than 70% relative humidity.
2. Do not wipe the surface of reflective fabric with acid or alkali. Avoid soak in acid or alkaline solutions for long time.
3. Water-cooled air conditioner is not suitable for garment factory. Garment is recommended to be dried or dehumidified before bagging. If the cloth is dampened or steam ironed, be sure to let it air-dry in time.
4. Workers are suggested to wear gloves during production process to avoid possible blemishes. Meanwhile, machine oil or other corrosive liquids shall be kept away from reflective fabric.
For more detailed precautions in PDF file, please feel free to contact us.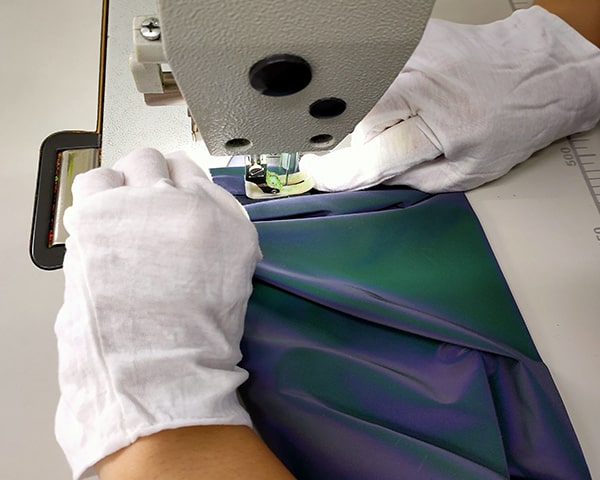 How to wash reflective fabric?
It's important that you wash the reflective fabric or any reflective products made of it following the below instructions, as reflective fabric is very sensitive to multiple factors including temperature, PH or mechanical actions.
Wipe out the stains instead of wash the whole clothing

If there are any dirt position, you may not need to wash the whole clothing, try to wipe the dirt spot with a wet towel gently, if you have alcohol at hand, dip the towel in it and gently rub the surface of reflective fabric, it helps to remove the stains.

Read carefully the manufacturer's label instructions before wash

Read the wash and care instructions on the reflective clothing. What do the washing icons on the clothing mean?

If possible, choose hand wash instead of machine wash

Choose hand wash if possible, use cold water and mild neutral detergent. Soak the clothes completely, and use a cotton cloth or a sponge to wipe gently on the surface. Hand scrub softly, do not use brush, the micro glass beads will be washed off.

If machine wash, choose delicate cycle, use neutral detergent in cold water

If you really need to wash it in a washer, turn to the "delicate" cycle option, water temperature should be controlled within 30 degrees. choose neutral laundry detergent for washing, and don't use fabric softener or bleach.

When machine wash, wash it inside out, avoid rough fabrics or edges.

Remember to turn it inside out. Avoid to wash it with clothing with rough fabrics or edges, as the reflective fabric can be easily worn off. Also don't wash it together with dark clothing, as they might bleed and affect the reflectivity.

Line dry in the shade or tumble dry in low temperature

Don't wring or spin, Hang and dry in a cool place. Don't expose under direct sunlight. If machine dry, set in lowest temperature, once complete, take out the garment immediately. The added heat may damage the reflective fabric.

Don't Iron, use a steamer to remove the wrinkles

Don't iron. The reflective fabric can be damaged by the extreme heat. If you really want to get the wrinkles off, then you can use a steamer instead and line dry it after.

Hope you have learned the do's and don'ts of washing reflective fabric and clothing. Any questions, pls feel free to contact us.

Friendly Tips for Designer: Reflective fabric is not suitable for parts with direct skin contact such as collar or lining. It will cause an uncomfortable feeling when contacting directly with skin.