Reflective Materials-new trend from Canton Fair
Chinastars Reflective has attended the spring and autumn Canton Fair each year. The 2019 Spring Canton Fair was over at 5th May. We just came back from this trade fair with some new market trend of our reflective materials. At this trade fair, we have come to know, more and more customers are interested to use reflective fabrics and reflective piping for their sportswear, fashion wear. Many visitors have cut the samples directly from our booth and plan to develop new designs by using our new reflective materials. Here are TOP 4 products in the fair, hope the information will be somewhat helpful for you.
1. Rainbow reflective fabric: This kind reflective fabric has been popular since last year, we also call the fabric as iridescent reflective fabric or 7 colors reflective fabric. Chinastars now have two different backing fabric to offer, one is 100% polyester backing which is suitable for making all kinds of garments because it is softer, lightweight and thinner. The other is 65% polyester 35% cool backing which is suitable for making bags such as the shopping bags. According to our sales data, now 100% polyester fabric is much more popular. The fabric width is 140cm, and some customers usually use the whole fabric to make the reflective jacket or garments, but some customers just use parts of the fabric to save some production cost.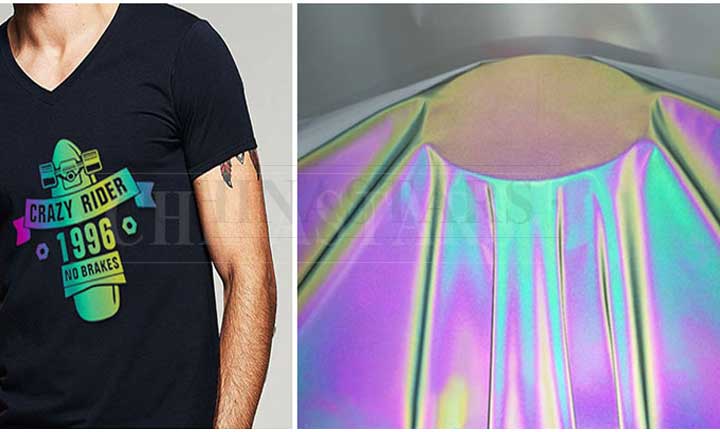 2. Gradually varied reflective fabric: Well, actually we have already developed this reflective fabric last year. And it becomes popular this year, more and more customers start to make new designs with it. Now we have a yellow-grey and green-grey color to offer. The backing fabric is 100% polyester, as this kind of reflective fabric is more suitable for garments. What's more, you cannot just use parts of the fabric onto the garments, must use all of it or you cannot see the gradual effect. So sometimes, customers might think the price is a little higher.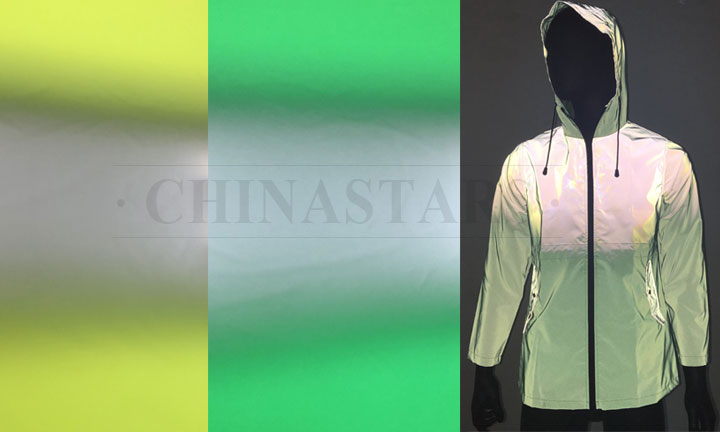 3. Colored reflective fabric: We have this kind colored reflective fabric many years ago, but now it is highly welcomed by fashion or outdoor customers. We have various colors to offer and can customize the color according to our customers' requirements. Our most popular and standard color is yellow, red, green and black. For these colors, factory usually keeps some in stock, so we can quickly offer our sample fabric to our customers, in this way, they can make many different designs to show and promote.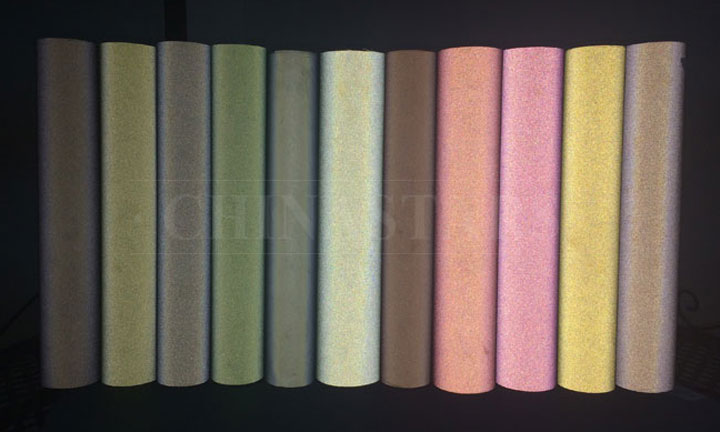 4.Rainbow reflective piping: This is a new arrival piping. Normal reflective piping is grey or silver or some colored reflective piping such as black, yellow. This new rainbow reflective piping is the black color at daytime but becomes rainbow color when exposed at the light. You can also take photos by turning your phone camera into a flashlight, then you will see the effect. Based on this reflective effect, many outdoor and fashion designers have added this piping onto their garments, bags, even shoes. We can offer different sizes according to customers' requirements.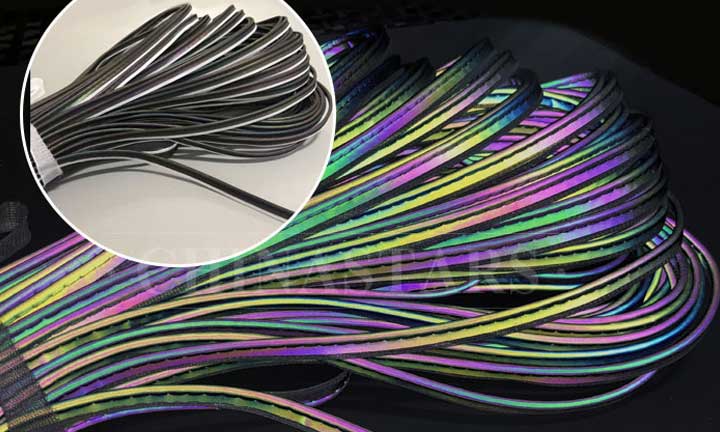 Chinastars Reflective have attended all kinds of trade fairs, not only domestic trade fairs but also overseas. We also attend not only PPE trade fairs but also fashion, functional fabrics trade fairs. We have kept a close eye on the market trend, in this way we can know what customers need. And develop some new products according to market demand. Next, we will attend the TECHTEXTIL show in Frankfurt( May 14-17). Our booth No is 4.1J54B. If you have time, please come and have a look at our new reflective materials.