5 Popular Reflective Vests For North American Market
As we all know, NSC is a professional exhibition for the PPE industry. Chinastars, as a professional manufacturer, we have attended the exhibition also. After the three-day exhibition, we have got many feedback and market trends for the reflective safety vests. So we can't wait to share it with you.
1. Basic Design Reflective Safety Vest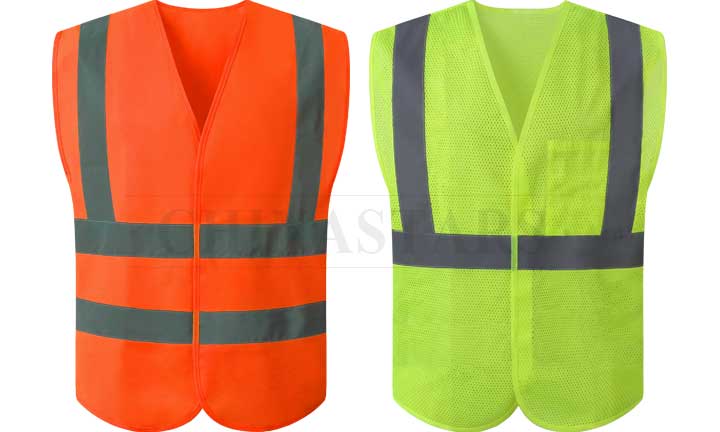 Customers usually call these simple design vest as the basic reflective vest, which can also meet ANSI 107-2015 Class 2 standards. As you can see, the design is a little different from EN 20471 standard vests. A vest with only two horizontal reflective tapes will not meet the ANSI standard but can meet the EN standard. Because, ANSI standard requires that it must have vertical reflective tape, at least 15cm. The other main difference is, for the EN standard, only 120gsm fluorescent yellow or 120gsm fluorescent orange knitted fabric can meet the requirement but for ANSI standard, both 120gsm fluorescent yellow/orange knitted fabric and mesh 110gsm fluorescent yellow/orange fabric can meet the requirement. What's more, customers prefer 110gsm mesh fabric. As they think it will be breathable.
2.Two-tone safety vests
This kind of design safety vest has four pockets outside, one patch pocket on the left chest which you can insert a pencil or other things into it ; one phone pocket which you can hang the interphone ; two big three-dimensional bags at the bottom of the vests which can let you hold many different pieces of stuff such as keychain, notebooks etc. Based on its function, it is highly welcomed by customers. If the main fabric is fluorescent yellow color, then the 5cm grey/silver reflective tape will be sewn onto 9cm fluorescent orange fabric; if the main fabric is fluorescent orange color, then the 5cm grey/silver reflective tape will be sewn onto 9cm fluorescent yellow fabric. Therefore, people also call this kind vest as the two-tone safety vest.
3. Five-point breakaway safety vest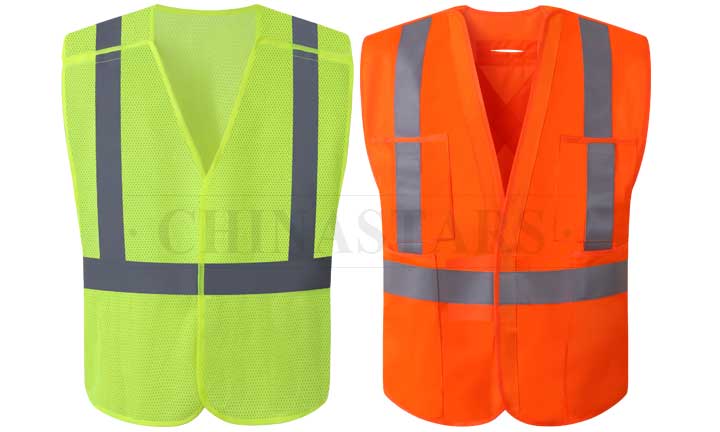 These are the basic design five-point breakaway safety vests, which are very popular among our customers. As you can see, these five parts are connected by hooks and loops. In this way, if people who wear it has confronted some dangerous, such as a hooked by things when working at height, then he or she can easily take off this vest. The weaving technique is little complicated than normal basic safety vest, therefore the cost is a little higher. The only difference is one of the American market, the other for the Canada market. As Canada standard requires that a vest must have a cross reflective tape at the back of the vest. Because they said that it can help in the passing by drivers know whether the pedestrian is walking towards to them or not. If the reflective tapes' pattern is the same as the front, then they don't know. Sometimes it will cause traffic accidents.
4. Multi-pockets Class 3 reflective safety vests: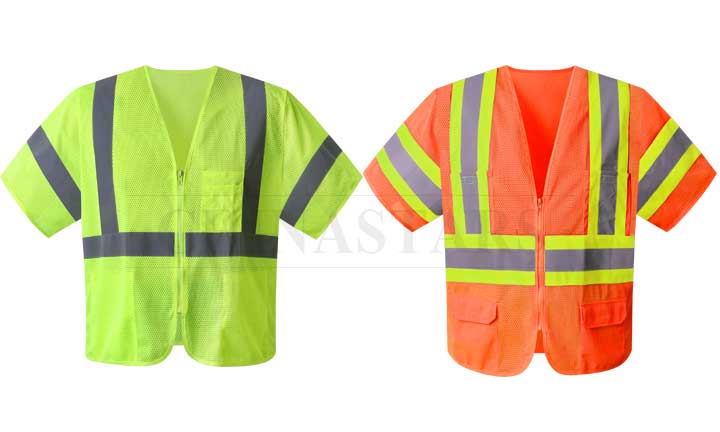 These are two popular ANSI 107-2015 Class 3 standard safety vest. As you can see, it just adds some reflective tapes around the shoulder part. As if a vest must meet ANSI 107 Class 3 standards, then the fluorescent fabric's area must reach 0.8㎡ and reflective tapes' area must reach 0.2㎡. But for ANSI 107 Class 2 standard, only 0.5㎡&0.13㎡ will be okay. So it needs more area. If you need good value safety vest, then a simple ANSI 107 Class 3 safety vest with just grey reflective tape with one patch pocket outside and one patch pocket inside will be okay. If you need more functions and need the vest to look more beautiful, then a two-tone safety vest will be better.
5. Non-ANSI standard one size fits all safety vest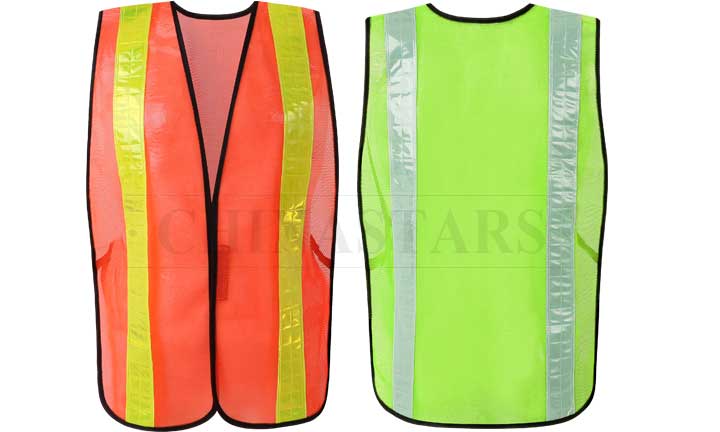 If customers just need a cheap safety vest without meeting the ANSI 107 Class 2 or Class 3 standards, then this vest will be a good choice. It is made of cheap mesh fabric with cheap PVC reflective tapes. what's more, you can adjust the size by the elastic band at the two sizes. So it is a one size fit all types. The cost will be much lower than the ANSI standard.
As a professional safety clothing manufacturer, Chinastars has exported our safety vest/shirt/raincoat/jacket/coverall etc to North American since 2002. We know what customers' need very much and have rich experience in this field. If you have any inquiries or new designs' requirements, kindly please don't hesitate to contact us. Our salesman will offer our most competitive price and best service.