CS-4002-GD
Reflective heat transfer htv vinyl for graphic design
Attachment Type: Iron On
Daytime Color: Gray
Composition: PET film and hot melt adhesive
Reflective coefficient: >260 cd/(lx.m²)
Home Wash Cycles : >15
Width: any width from 1cm to 140cm
Application: It is suitable for using a computer or laser to carve a variety of fonts or patterns, and then heat them on all kinds of substrate.
Packing: 50m/roll, 100m/roll, or customized
Contact Us
DETAILS
1. Composed of wide-angle exposed micro-glass beads bonded to a heat-activated adhesive.
2. Feature: Thicker PET protective liner for reflective side, easier to cut by plotter or laser machine into graphics, characters, and logos.
3. Packing: 50m/roll, 100m/roll, or customized according to customer requirements.
4. It can be applied to many non-stretchable fabrics. Ideal for a range of applications, including safety gear, sports apparel, fashion accessories, and more.
5. Can be easily applied with a heat press or iron, and can withstand repeated washing and drying without losing its reflective properties.
HOW TO USE REFLECTIVE HEAT TRANSFER VINYL
To apply reflective HTV onto fabric, follow these steps:
1. Cut the vinyl into desired strips or logos.
2. Weed out the excess vinyl film to leave only the intended design on the carrier film.
3. Place the carrier film with the design facing down onto the fabric.
4. Apply heat and pressure at the recommended temperature for a specific duration of time.
5. Once the heat transfer process is complete, allow the material to cool down.
6. Peel off the PET liner from the carrier film to reveal the reflective design on the fabric.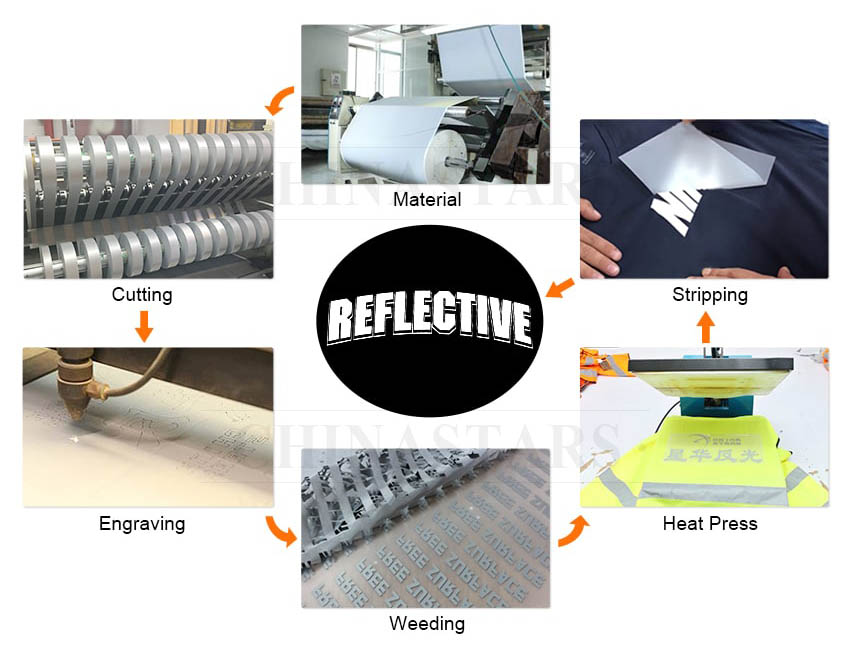 Guidelines for CS-4002-GD reflective heat transfer vinyl
Heat Press Machine
Temperature
Dwell Time
Line Pressure
140-160℃
8-20s
>0.5kg/cm²
Heated Roll Laminator
Temperature
Rotate Speed
Line Pressure
120-140℃
4-8m/min
4kg/cm²

Before applying the reflective heat transfer vinyl to the actual object, it is advisable to conduct testing and adjustments.

This will help you understand the effectiveness of the vinyl on a specific object and make necessary adjustments to temperature, pressure, or application time as needed.
RESOURCES