Reflective Printing Fabric
In recent years, reflective fabric has been widely used in outdoor clothing. Famous brands like Nike, Adidas, and New Balance have all launched their own reflective collections for shoes and clothing. The whole reflective jacket made of soft reflective fabric is popular worldwide. There is even report saying that the best way to avoid paparazzi is to wear a whole reflective jacket.
While in this year, a new trend is coming on the way for reflective printing fabric to combine safety with fashion.
Chinastars reflective printing fabric is an ideal choice for outdoor sports clothing or children's product like safety vest, schoolbag or umbrella etc. You can either choose our available patterns, or you can customize your own pattern to make your products unique and significant.
Below are some application photos of reflective printing fabric from Chinastars: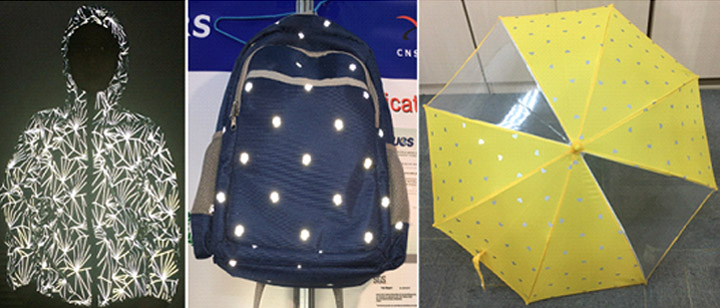 Our reflective printing fabric is of high reflectivity and can be widely applied on all kinds of base fabric. Chinastars uses coating technology instead of simple printing technology, so that the reflectivity is same as our silver reflective tape and much better than that of printing. To know more about the reflective printing fabric, pls kindly visit our website www.chinareflective.com or feel free to contact us.