Reflective fabrics for reflective jacket
2019 is about to pass and 2020 is on the way. Looking back at the sales data of our reflective material's business this year, we have to say that reflective fabrics are the darlings of outdoor leisure fashion wears this year. More and more brands are beginning to use our reflective fabrics, and some even use the reflective fabric as outer shell fabric. Based on this market trend, Chinastars Reflective business has grown very fast even the global business situation is not very good this year. Here I would like to list the three most popular reflective fabric's models as below :
CSR-1303-1 grey reflective fabric, the backing fabric is made of 190T 100% polyester fabric. this can be said to be a relatively cost-effective product, and its width can reach 160CM. Now, most other reflective factories in the industry provide products with a maximum width of the only 140CM. What's more, this reflective fabric's gram weight is also very good. The gram weight range is about 170 ± 15 gsm. Many customers use such reflective fabrics for spring and autumn single-layer jackets, of course, they also use it for cotton jackets.
CSR-3303-2 grey reflective fabric, the backing fabric is made of 190T 100% polyester pongee. Comparing with the CSR-1303-1 model, this reflective fabric's hand feeling is softer and fabric weight is about 160± 15 gsm. But the fabric width can only do 140cm and the cost will be higher than the CSR-1303-1 model. People who need a lower fabric weight and has some requirement for the handing feelings will need this one. Some customers will also do waterproof treatment. As some outdoor garments need this function too.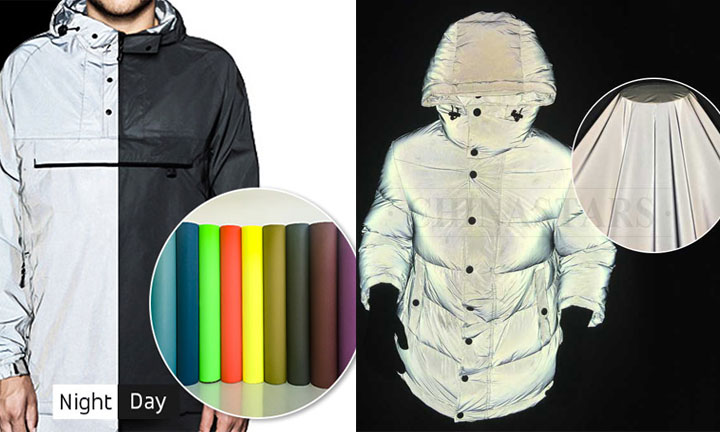 The other popular models are our colored reflective fabric such as black, white, orange, yellow, navy blue, etc. If you have your colored requirement, our factory can also do it according to your demand. But the reflection of the colored reflective fabric is very low compared with other models, only around 10CPL. So many customers just use parts of the fabric.
There are brief introductions of these three reflective fabrics. Now many friends are having their Christmas and new year holiday and the Chinese CNY holiday is also approaching. I wish everyone has a great moment during the holiday. Chinastars will update the latest market trends news or new reflective fabric's news from time to time. If you are interested in our reflective materials or reflective fabrics or reflective tapes, welcome to contact us.