New Reflective Clothing Designs At NSC Trade Show
As we know, NCS is the world's premier annual event which brings together 14,000 safety, health, and environmental professionals. Each year, The NSC Congress & Expo puts you at the cutting edge of trends, products, ideas, and insights advancing health and safety at work, at home, and on the road. As a professional manufacturer, Chinastars will attend the NSC exhibition with new reflective safety clothing which is quite different from traditional ANSI 107 standard garment designs during 22nd to 24th Oct. We will introduce a few new designs here, for more designs, welcome to visit our booth to get more information.
Our new reflective designs include pattern printing reflective safety vest, whole reflective jacket & rainbow reflective coat. As we know, in recent years, more and more customers not only ask the reflective clothing should be safe but also require that it must look nice & beautiful. This is indeed a market trend. Based on this market demand, our designer has developed some new reflective clothing designs with our new reflective fabric to match up with our customers' various demand. To be honest, the promotion results are really good. And some have already become the popular designs in the European market and the end user's feedback is very well. We are thrilled with these results and are very excited to share this with our customers. Here are some popular designs for reference:
1. Pattern printing reflective safety vest:
This time, we use Chinastars' pattern reflective fabric as the main fabric. It makes the vest not only safety but also fashion and now is widely used onto cyclist, runners, night walking, hiker etc. Now we have already developed 18 pattern reflective designs to choose from. If you have your own designs, we can also customize it. You can send us your detail design requirement to our sales department. They will check with our technical department and see if we can do it or not. Apart from the traditional whole reflective fabric, the backing fabric is polyester, TC, cotton or stretchable fabric, and color can only be grey or silver etc. Now you can do this kind of pattern reflective onto most backing fabric, such as PU backing fabric to make shoes, oxford backing fabric to make backpacks, knitted backing fabric to make vests etc. What's more, our RD team just develops the rainbow reflective pattern designs. By using this kind of fabric, your garments will look much fashionable and cool.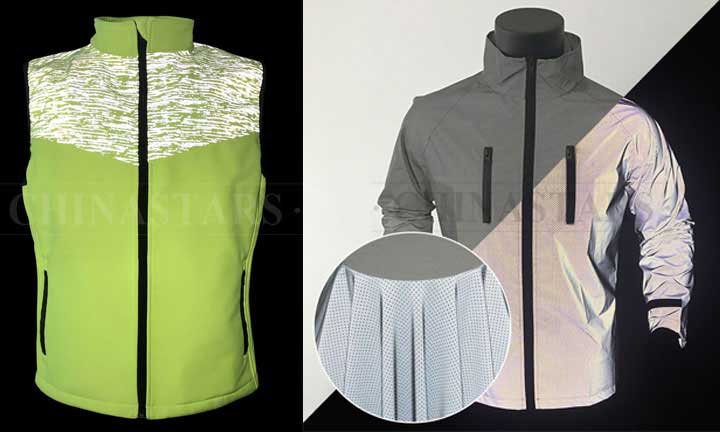 2. Whole Reflective Jacket:
This kind reflective jacket has already been popular in recent years especially in outdoor fields. It uses Chinastars' reflective fabric as the main fabric. But most end-users say that the 190T 100% polyester fabric is not soft enough and has many surface creases when folding it. Therefore, we develop the soft reflective fabric which can solve this kind problem to some extent. What's more, people will also feel comfortable by wearing this soft reflective jacket. The disadvantage is color selection is very limited. Most standard color is the grey color. But many customers are still okay with it. They think it is very cool.
3. Rainbow reflective coat:
Rainbow reflective fabric now is highly welcomed by customers and it has been adopted by many designers or companies because it appears black in daylight, while at night when illuminated by light, it is able to show different reflective colors at different angles, which is absolutely stunning and eye-catching. Now we have 100% polyester backing, TC backing and soft polyester backing fabric to offer. Many designers use the rainbow reflective fabric to make jackets, coats, shoes, bags etc. Chinastars also develops a few design rainbow reflective coats to show it on the booth.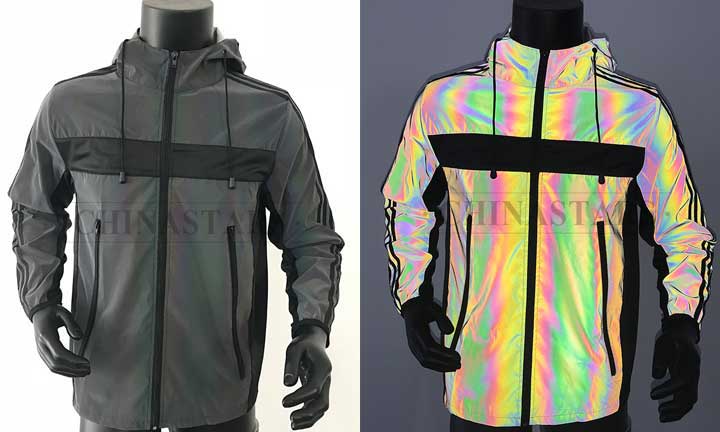 Chinastars has exported our safety vest/shirt/jacket/raincoat/pant etc. into North American Market since 2002. After 15 years developing and exporting, we become the professional and one of the largest manufacturer of reflective safety clothing in China. We know the market and products' standard very well. We also keep a close eye on the market for new trends and develop new designs with new reflective material to meet our customers' various demands. Customized designs are highly welcomed. Welcome to visit our booth or send your detail designs to our email box, our sales team will give you their professional suggestions. Thanks for your attention.