Cycling in the dark season with reflective material
In the morning it gets light later and later, in the evening it dawns earlier: Autumn has arrived, with it the coziness but also the danger of being less recognized as a cyclist in traffic. There we advise all cyclists to pay particular attention to be visible. This applies to the bike path and even more so on the road.
Even at dusk and especially in the dark, people can see up to 80 percent worse than in light. Even if you think you can still see enough yourself, that doesn't mean that the other road users are also good at it.
Be in the dark:
Dark-clad people only noticed from a distance of 25 to 30 meters.
Brightly dressed people recognized from 40 to 50 meters.
People with reflective clothing are seen from 130 to 160 meters away. By wearing a safety vest as a cyclist, you are more visible in traffic. This is especially true in the dark or in bad weather conditions.
What are the regulations and how can I as a cyclist - and my cycling children - optimally protect myself in the dark in traffic? Here are some tips for you to cycle safely through the dark season:
Lights and reflectors on the bike
To be safe in the dark as a cyclist, it is important to have the right lighting and reflectors on the bike. It's not just about being seen, it's also about having a good view of yourself.
Prescribed lighting on the bike:
Headlight (white) and taillight (red)
Large surface reflector (red) with "Z" marking
Yellow reflectors on the pedals
Two spoke reflectors (yellow) or reflective material (white) on the spoke rim or tire per wheel.
In addition to the dynamo, rechargeable batteries and battery lighting are also permitted, provided they have a test mark.
A correct headlight setting is also important for bicycles for good illumination and not to dazzle oncoming traffic.
Reflective clothing
Even with the prescribed lighting, pedal knights are not necessarily optimally visible on the bike. Especially in rain and fog, there is a risk that a cyclist will not be seen or seen too late despite the light. That is why it makes a lot of sense not only to make your bike more visible but also for yourself with appropriate clothing or reflectors. Clothes, shoes, and helmets are more noticeable in bright colors and with reflective stripes! Useful accessories include LED armbands, reflectors, and safety vests.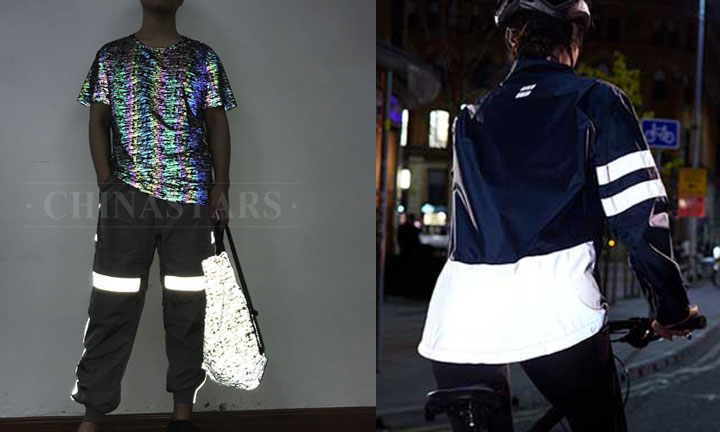 Reflective bike accessories
Bicycle accessories can also contribute to good visibility. Therefore, when buying bicycle bags, baskets, child seats, or trailers, cyclists should make sure that they provide extra light in the dark, for example through reflector strips.