Rainbow Reflective Heat Transfer Vinyl (HTV)
"Rainbow Reflective Heat Transfer Vinyl is a high-quality, innovative heat transfer material designed for adding vibrant, eye-catching designs to various textiles and garments. It features a unique rainbow reflective effect, which enhances visibility and creates a stunning visual impact when exposed to light. This vinyl is commonly used in the fashion industry, outdoor gear, and sports accessories to create customized designs that stand out in low-light conditions."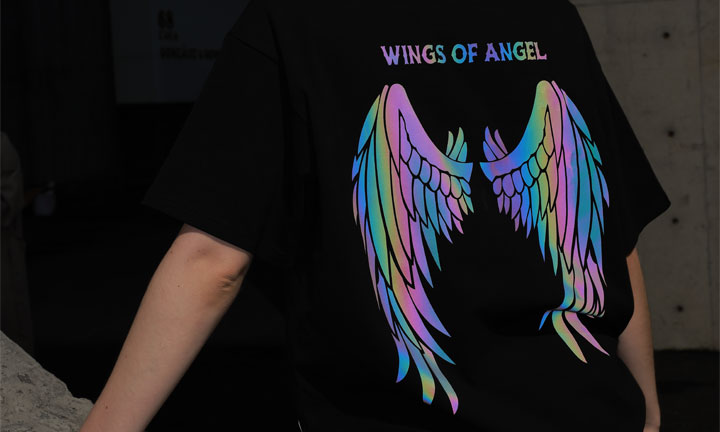 Product name: rainbow reflective vinyl
Manufacturer: Chinastars
Daytime color: black
Reflected color: rainbow (multi-color)
Width: Full width up to 140cm, can be cut into various sizes
Packing: 50/100/200 meters per roll
Adhesive Type: Heat-activated adhesive backing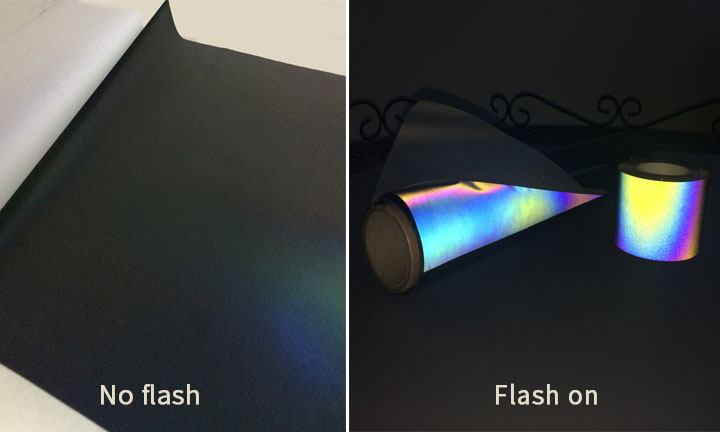 Rainbow Reflective Effect:
The standout feature of Reflective Rainbow HTV is its eye-catching visual effect. When exposed to light, such as headlights, flashlights, or cameras, it displays bright and rich colors, creating a mesmerizing rainbow effect. It is ideal for enhancing visibility and safety.
Suitable for Different Fabrics:
The vinyl has a heat-activated adhesive backing, allowing for simple and hassle-free application using a heat press. It adheres securely to a wide range of fabrics, including cotton, polyester, spandex, and more.
Customization Options:
To meet diverse customer needs, we offer customization services. Please share your design requirements and fabric characteristics with our experienced sales, and we'll provide tailored reflective rainbow HTV solutions. Whether you're an individual, brand, or business, we ensure high-quality products and customer satisfaction.
Wide Color Range:
Available in a variety of attractive rainbow colors, the vinyl offers versatility and enables the creation of unique, multicolored designs that catch the eye.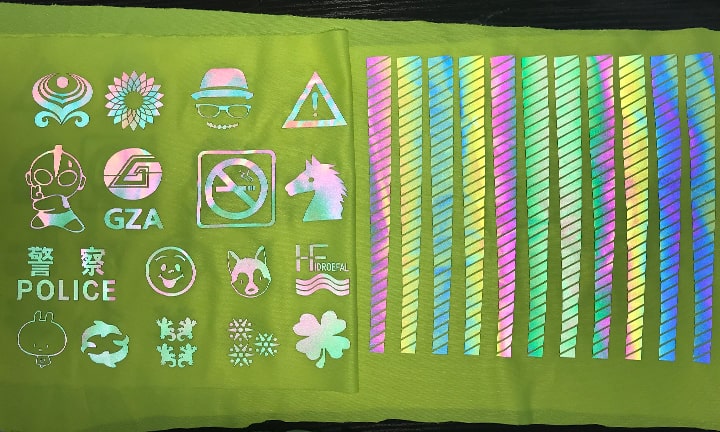 Washable and Long-Lasting:
The vinyl is resistant to washing and maintains its reflective properties even after multiple cycles, ensuring the designs remain vibrant and intact.
Eco-Friendly:
Our reflective rainbow vinyl is free from harmful substances, making it safe for use on garments.
Rainbow Reflective Heat Transfer Vinyl Applications and Design Ideas
The reflective rainbow heat transfer vinyl offers a wide range of creative applications and design possibilities. Here are some ideas to inspire your projects: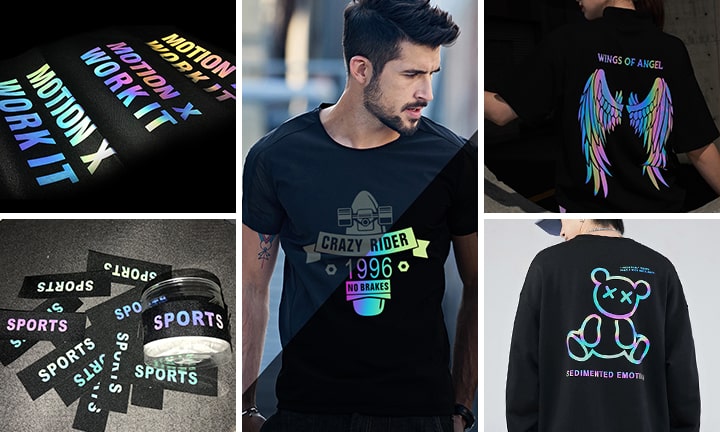 Apparel Design: Create eye-catching designs on garments, such as t-shirts, hoodies, caps, and jackets. The rainbow effect will add a dynamic and captivating element to your clothing.
Sportswear: Enhance visibility and safety in sportswear by applying rainbow reflective vinyl to athletic jerseys, shorts, and accessories. It's especially effective for activities like running, cycling, or nighttime sports.
Accessories: Add a touch of style and visibility to bags, backpacks, hats, and shoes. The rainbow reflective vinyl will make these accessories stand out and provide increased safety during nighttime use.
Promotional Items: Make your promotional merchandise more memorable by incorporating the rainbow reflective vinyl. Apply it to promotional shirts, and bags, to attract attention and leave a lasting impression.
Team Uniforms: Design vibrant and standout uniforms for sports teams, cheerleading squads, or dance groups. The rainbow reflective vinyl will add a unique visual element and help team members stand out during performances or competitions.
Event Branding: Apply the rainbow reflective vinyl to event flags, for increased visibility during nighttime events or outdoor activities. It will create a captivating and attention-grabbing effect.
Remember to consider the design layout, size, and positioning when using the rainbow reflective heat transfer vinyl to maximize its visual impact. Experiment with different color combinations, layering techniques, or cutting patterns to achieve unique and stunning results. Please contact us at [email protected] for details.
How to Apply Reflective Rainbow Vinyl?
1. Cut your desired design in reverse using a vinyl cutter or plotter.
2. Weed away the excess vinyl, leaving only the design on the carrier sheet.
3. Preheat the heat press or iron to the recommended temperature (typically around 140 - 160℃).
4. Place the garment on the heat press or a firm, heat-resistant surface if using an iron.
5. Position the design on the garment with the carrier sheet facing up.
6. Apply firm, even pressure using the heat press or iron for the recommended time (usually around 8-20 seconds).
7. Allow the vinyl to cool down before removing the carrier sheet gently.
8. For best results, wait at least 24 hours before washing the garment. Wash inside out using a mild detergent, and avoid using bleach or fabric softeners.
The above information is for reference only. Please conduct tests on the fabric and heat transfer before use to determine the optimal heat pressing conditions.
Holographic Reflective Heat Transfer Vinyl Care and Maintenance
1. Always follow the recommended heat settings and application instructions provided by the vinyl manufacturer.
2. Do not use bleach or harsh chemicals when washing the garment with applied vinyl.
3. Keep the vinyl away from direct heat sources and open flames.
4. Store the vinyl in a cool, dry place, away from sunlight and humidity. For optimal performance, please use the product within one year from receipt.
The information provided in this document is based on our current knowledge and experience. We recommend conducting a small-scale test before full-scale production.