How to manage the disruption--sharing the advice to importers who are not familiar with Chinese New Year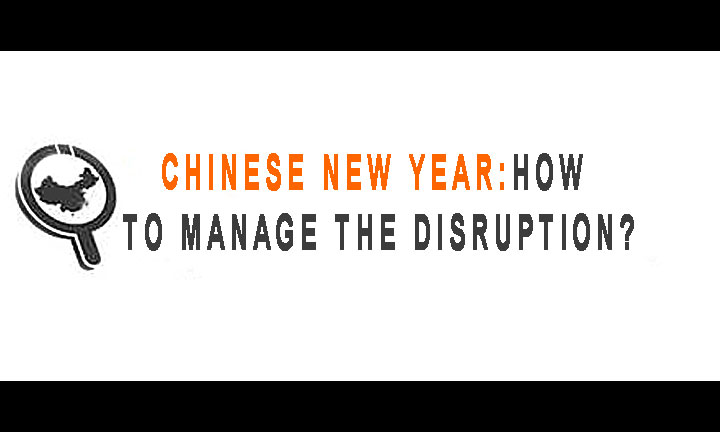 Background:
The Chinese New Year holiday is a significant event which requires planning and a degree of inventory build-up. Nominally, the legal holiday is one week in duration; but for a variety of reasons the typical impact on production is much greater. (In 2020, CNY holiday is Jan. 24-30.)
· Many employees leave work early, perhaps by as much as several weeks. This is enabled in part by a practice where many factories allow workers to accrue overtime during the year and take it as paid time off at yearend.
· The transportation systems are taxed by a large outgo of products, as many importers take extra inventory to cover their needs through the holiday. (Just as we will suggest that our customers do!) My clients have experienced problems with container and truck availability; in several past years finished goods waited at the factory but could not be shipped. The ports themselves remain open for most of this time, if the goods can get there. (We experienced all these transportation problems: no truck drivers; no trucks; not able to get booking confirmation from forwarders; no empty containers from shipping companies...)
· Factories are reluctant to accumulate inventories over this time period. In part this is due to a custom of settling trade accounts (that is, paying off accounts payable and (hopefully!) collecting accounts receivable prior to the holiday. (We always accumulate inventories before CNY holiday every year)
· Most factories close for a period of two weeks; a few close for up to four weeks. Realize that for many workers, this is their only time to visit family for the year. In many cases, this includes children, who are often raised by grandparents back in the countryside. (Our reflective material factory closes for one week; our high visibility clothing factories close for at least one month)
· Many odd contingencies occur at this time of year. Murphy's law is fully in force.
And then, after the holiday…
· Many factories experience heavy worker turnover, as migrant employees may choose to remain home, or move to other regions in search of better opportunity. This leads to slow startups, as the work force reaches full strength. (Over 95% of our workers come back to work after CNY holiday every year)
· Because raw material inventories were diminished or totally consumed, production cannot resume at full pace until suppliers make deliveries of raw materials.
· As above, these issues ripple through all levels of the supply chain. This is particularly troublesome for more complex products; the product cannot be completed until ALL the components are ready!
Approach:
We have addressed this situation using several steps.
1. Develop a tentative material plan through May 1 of the new year.
2. Determine material requirements to cover sales through April 1, plus a safety stock of 15 - 30 days greater than the usual safety stock expectation.
3. Issue orders for this material during mid December, to be built and shipped prior to the New Year shutdown.
4. Review sales and inventory status again during mid January, and prepare an order plan covering:
a. The highest priority material, for production and shipment immediately after work resumes. This should cover material needed through May 1.
b. Estimated requirements through July 1, to provide the factory with raw material planning/ purchasing. You can place these as a blanket order, for example.
5. Increasing the level of quality surveillance. Whatever the normal level you use for each supplier, step it up at least one level. At the very least, increase receiving inspection frequency/ counts; better yet, add a third party pre-shipment inspection. This is particularly important for the first shipments after the new year, when there may be many brand new employees making your products for the first time!
Conclusion:
This challenge is a normal part of business with China; with careful planning and adequate safety stocks, the distributor can ensure continuity of supply. At the same time, it is necessary to be flexible… as mentioned above, during this period Murphy works overtime!