Dog protective vests-Safe through dark hours
Those who love their four-legged friends protect them well. Safety is the most important thing, especially in dark hours. A protective dog vest ensures that your fluffy friend is not overlooked in the darker hours. We've reviewed the best vests and we share with you tips and tricks that can save your dog's life.
Whether in winter or summer - when it's dark outside, your four-legged friend should wear a protective dog vest with reflectors.
As with humans, the following applies: When it gets dark, it becomes dangerous in traffic. So it is all the more important that we make our dog particularly visible. This works especially well with the right dog warning vest or a bright luminous collar. Safety vests are printed with reflective logos that shine brightly when the light from car headlights hits them. The driver can see your dog from a distance and react accordingly.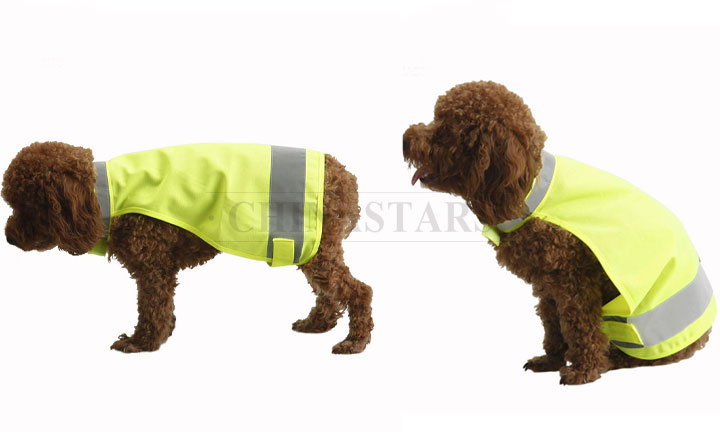 The right safety vest for every dog
The safety vest is available in sizes S to L. No matter if dachshund or mastiff - you are guaranteed to find the right size for your four-legged friend here. The vest is printed all around with a reflective strip that shines extra bright in the dark. Hook and loop closure allows easy adjustment for a custom fit. This pet safety vest is designed to fit a wide variety of dogs. Logo imprint is also available in different ways. You can customize your vest by changing the color, reflective tape, or fabric, etc.
How big should a safety vest for the dog be?
Not too big and not too small! If you are not sure about the size, we recommend that you get a safety vest with Velcro fasteners. This allows you to flexibly adjust the vest to the dog and buckle it up larger or smaller. Most manufacturers also state the size of the dogs in their product descriptions, which fits the vests. So you can be sure that you get the right measurements.
How is a dog signal vest attached to the dog?
The standard version of a signal vest for dogs is closed with a Velcro fastener. Some models have to be pulled over the dog's head, as the vests cannot be opened at the neck. Other models also have a clasp on the neck strap and are only placed on the back and then adjusted.
Protective dog vests for safety are often provided with a zipper. Here the dogs have to step with their paws through the leg recess so that the zipper can be easily closed.
Is a safety vest comfortable for the dog?
It all depends on the fit. If you follow all of the tips above, the dog will be comfortable while being carried too. If the vest is too small, it will restrict the animal. If it is too big, the dog can get stuck with it.
Safety vests are less comfortable for dogs that are supposed to be protected for hunting, for example. These have a thick, solid material that is supposed to protect the four-legged friend from attacks by wild animals.
Is a safety vest compulsory for the dog?
Safety vests have been mandatory for people for years. At least for every driver, because in the event of an accident, all occupants of a vehicle have to put on a safety vest over their clothing. Rightly so, because a safety vest increases visibility many times over.
Safety vests are not compulsory for dogs. Nevertheless, every owner should have a luminous vest for the four-legged friend. Because the dog can be seen better by other road users during the nocturnal walk-arounds. A safety vest is an absolute must, especially when the dog is walking off the leash and there is a risk of it running out of control onto the street.