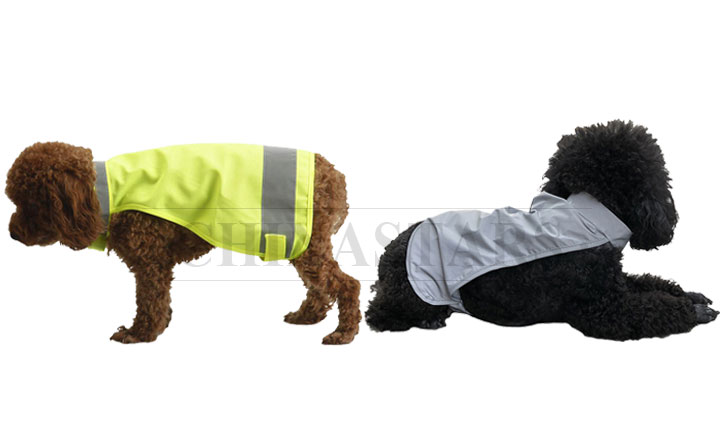 What material should a dog vest be made of?
The material is not entirely unimportant in a dog safety vest. Because so that you can enjoy it for a long time, the material should be robust and tear-resistant. Especially if your dog likes to play with friends and it gets wilder, there should not be holes in the material after the first romp.
A water-repellent surface is also useful. Even walks in the rain are fun and dirt and grime can be easily wiped off.
Velcro is ideal for closures. But this should also be robust and of high quality so that the closure lasts a long time. Zippers are a bit more stable, but the vest cannot be optimally adapted to the animal. The situation is different with protective dog vests, for example for hunting dogs. In the event of a game attack, the vest has to be tight and stable - in such cases, a zipper is much more useful.
How many reflectors should the safety vest for the dog have?
The more reflectors there are on the safety vest, the better. Because the brighter your dog shines when it is illuminated by car headlights. It is important that not only the edge or the Velcro fastener are provided with small light strips, but also that a larger reflector is attached to the sides of the safety vest. In combination with neon color, your dog is much more visible at night.
What is more - luminous collar or signal vest?
We recommend a combination of both. A signal vest works by shining a spotlight or lantern light on the reflectors and then lighting them up. A luminous collar does not need this kind of extraneous light. Because it is equipped with integrated LEDs that light up by themselves.
So if both have the same purpose, why is the combination of a luminous collar and safety vest the right solution? The luminous collar on its own is often not bright enough to be seen by drivers from a distance. However, you have a better view of your dog, even if he disappears into the bushes to sniff. In this way, you can avoid the dog suddenly running into the street and not seeing it.
The signal vest, on the other hand, makes the dog visible to drivers. And that from a great distance. On the other hand, the safety vest is less effective for you. Unless you light up the dog with a flashlight, or he happens to be walking through the beam of light from a streetlamp.
What do you have to look out for in terms of visibility in a safety vest for dogs?
The most important thing about a safety vest is the reflectors. These can't be big enough, because the bigger, the brighter the reflected light.
The second point that most dog vests generally bring with them is the neon color. In combination with the reflectors, this ensures optimum visibility even at dusk.