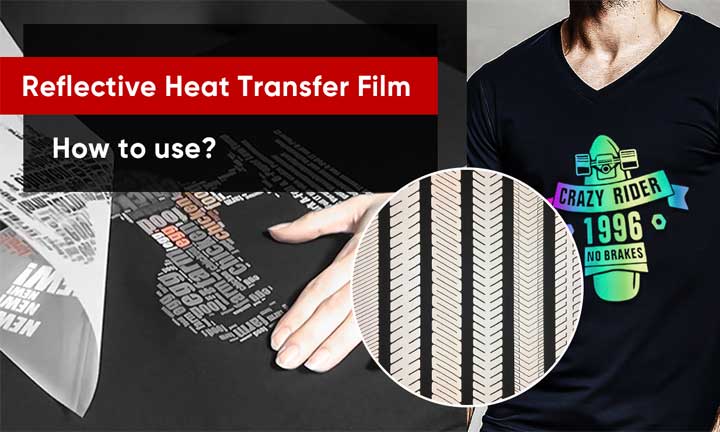 In recent years, Reflective heat transfer vinyl is a widely used material for applying on garments, such as sports clothing, pants, coats, and others. It can be made for patterns, numbers, and letters, with easy operation, but high quality and durable.
Compared to sew on type reflective fabric, the quality of heat transfer type is more important.
For the sew-on type reflective fabric, you just need to stitch the fabric onto your products, unless the stitching thread broke, otherwise the reflective material will remain on the products without any problem.
For the heat transfer type, it is different. If the quality is not good, the reflective part will come off, especially after several times washing. We take very strict quality control for the reflective heat transfer type material to ensure the quality, including washing tests for every batch material.
Why use reflective heat transfer type material?
There are three reasons to use reflective heat transfer material.
1st, heat transfer type reflective material is seamless, without the stitching path, it is more comfortable and skin-friendly.
2nd, heat transfer type reflective material is good for waterproof jackets, if it is stitched with reflective tape, the water will go through the stitching holes and we have to seal it, it costs more and not good looking. But with the heat transfer tape, it won't have any effects on the waterproof quality.
3rd, heat transfer type material offers more possibilities about the designs. You could create thousands of amazing ideas to apply the reflective onto your products, for example, your brand logos, segmented tapes, etc..
How to use the reflective heat transfer material?
1. check the fabric condition and application of the products, then choose the suitable quality reflective heat transfer tape.
For example, the fabric is elastic, the elastic reflective heat transfer material is required, otherwise, the tape will break when stretch.
If the fabric is water repellent, we have to use the quality which matches with DWR material.
If the fabric is not heat resistant, then low melt point quality is required.
If you don't have such knowledge, we could help you to choose the right quality.
2. Proper heat transfer operation
Cut the reflective heat transfer material into stripes, or cut into logos,
Put the reflective tape onto the fabric cutting,
Heating at the required temperature, for several seconds, at a suitable pressure, cool the material, then peel off the PET liner.
We have very detailed operation guidance info and video if you have any questions.